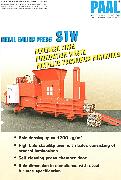 PAAL S1W/5 Metal Can Baler.
Made 2006 and been in production between October 2006 until October 2009.
Pressforce: 105 tons.
Motor: 75 KW.
Bale density: Up to 1´700Kg/m³.
Capacity: Up top 35m³/hour.
Channel Cross Section: 400mm x 400mm.
Oiltank: 1´600 l.
Weight: 10 tons.

All above technical specifications are taken from PAAL´s leaflet.